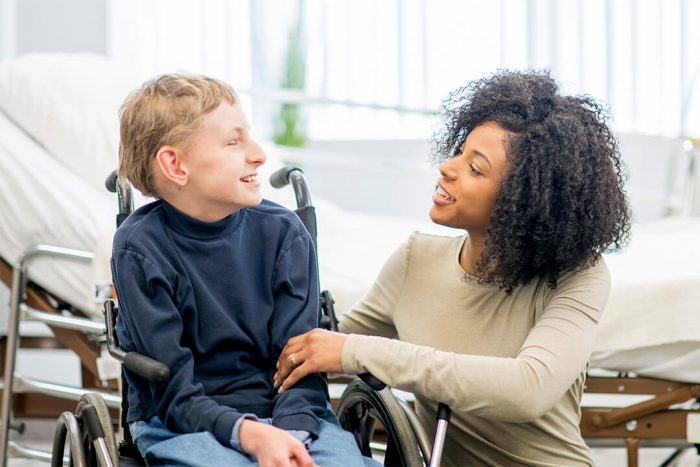 We are transforming the way in which we deliver services to those children, young people and families living with neurodevelopmental challenges, for example associated with Autism Spectrum Condition (ASC) or Attention Deficit Hyperactivity Disorder (ADHD).
Our new service is providing enhanced support for schools and parents, carers and young people delivered by alliance partners Learning Space, Barnardo's and National Autistic Society along with Surrey & Borders Partnership NHS Foundation Trust.
Among the services on offer are bespoke training for school staff to help them support children living with neurodevelopmental issues. Training provides staff with greater understanding of autism and ADHD, along with tools to help them manage better and increase their self-confidence. Our aim is to enable a greater understanding of strengths, difficulties and behaviours related to neurodevelopmental needs and how they might be better managed.
An out-of-hours phone line provides advice to parents and carers who are struggling with behaviours or difficulties which could be related to neurodevelopmental need, such as autism or ADHD.
My Safety Plan
If you find yourself struggling or feeling distressed with your thoughts and feelings, it can be helpful to create a plan to keep yourself safe. Read about how to create your own My Safety Plan.
We have produced a family-friendly animation film for children, young people and their families explaining how to access our range of services and outlining what to expect.
Neurodevelopmental E-book
We are in the process of developing a neurodevelopmental E-book, with input from parents and young people as well as our system partners. This E-book will be a digital hand-held record that holds all information about needs and strategies used so that families don't have to repeat their story unnecessarily.
Neurodevelopmental hub
Later this year we plan to launch a neurodevelopmental hub which will act as a central point for specialist clinicians across the region. This hub will provide more intensive support and facilitate multi-agency working and risk management, along with consultation and advice to community and school-based workers.
The hub (which will be both virtual and physical) will be staffed by multi-disciplinary teams of the most experienced practitioners such as psychiatrists, senior psychologists and nurses who will see children and young people with multiple or complex needs; these may be a mix of mental and physical health needs, and complex conditions. The hub will be accessed by professionals in the community so that their expertise can be brought into schools and homes.