Who we are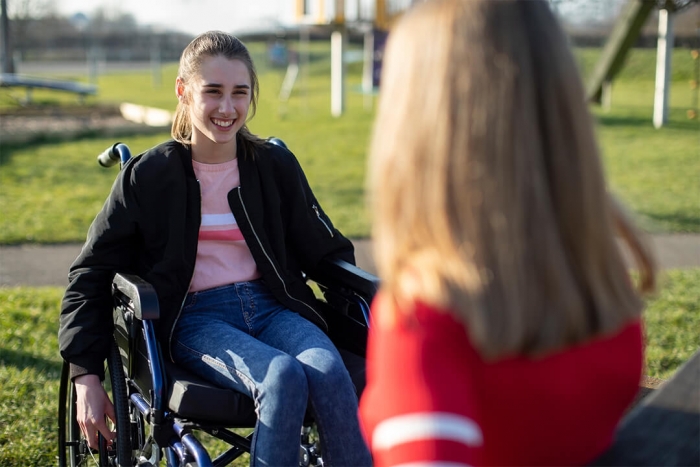 We are the Community Eating Disorder Service for children and young people up to 18 years old, available Surrey-wide.
We assess and treat young people with eating disorders including:
Anorexia Nervosa
Bulimia Nervosa
Binge Eating Disorder
Unspecified feeding and eating disorders
Avoidant Restrictive Food Intake Disorder (ARFID)
We are registered with the QNCC-ED (Quality Network for Community Eating Disorder Services for Children and Young People).
We are a multi-disciplinary team providing assessments and community treatment programmes with evidenced-based treatments, and we have excellent links with the adult eating disorder service and inpatient services.
Assessment
We offer an in-depth multi-disciplinary assessment with the whole family/carers. This includes:
Questionnaires completed by the young person and carer(s)
Physical health information
An in-depth interview
The assessment takes around three hours (so please bring food with you).
We will take physical observations and request blood tests and an ECG from your GP before assessment which are reviewed by the team.
The in-depth interview involves talking to the young person and their family/carers all together and separately. We ask about developmental and medical history, family history and other mood problems. We also ask in-depth questions about eating behaviour.
After the in-depth interview, a consultation happens with the wider team considering all the information, including the questionnaires. This is then fed back to the young person and their family/carers, and if the young person meets the criteria for a diagnosis of an eating disorder then it is also given.
Care plans and treatment plans are discussed during this feedback session. You will be allocated a care co-ordinator following assessment who will arrange your next steps with us and be your first point of contact.
If you do not receive a diagnosis we will offer some advice during the feedback session and appropriate signposting to more suitable services.
We offer NICE (National Institute for Health and Care Excellence) concordant treatments, which vary depending on your diagnosis.
There is a range of treatments, which can include:
Family-Based Treatment

: This is a therapy which has the best evidence base for treating young people with eating disorders. This requires the whole family (including siblings) to attend weekly sessions where the family are supported and empowered to help the young person recover from their eating disorder.

Specialist Supported Clinical Management

: This is mainly medical management where physical observations are made regularly and short 'check ins' are offered. They assess, identify and review key problems with the aim of weight restoration. Psychoeducation and nutritional advice is also given.

Dietetics

: Our dieticians support people to trust that eating a balanced diet is the right thing and can ensure nutritional adequacy for individualised diets. This can be offered alongside other treatments.

Family Therapy

: Our family therapists help families make sense of the impact that an eating disorder can have on their relationships. They work collaboratively with your family using your own strengths and resources to reach your goals.

Cognitive Behavioural Therapy (CBT)

: Our team offers CBT, which helps explore thoughts, feelings and behaviours that the individual wants to change. Our psychologists may also offer other types of individualised therapy if appropriate.

Art Psychotherapy

: This is offered by art psychotherapists who give individual sessions based on psychodynamic principles. Sessions are usually weekly for 3 to 12 months.

Child and Adolescent Psychotherapy: This is offered by child and adolescent psychotherapists who provide consultation, individual sessions for young people, and parent support, based on psychodynamic principles. Sessions are usually weekly for 3-12 months.
Parents/Carers Group
Every week we run a psychoeducation group for parents/carers. This is an essential group to obtain information about eating disorders, understand treatments and to also hear others' experiences.
Parents/carers are invited to this group if their young person is accepted for treatment. This group can be important in helping the young person recover quickly from their eating disorder. It is a rolling group, so after assessment parents/carers are invited to attend the next session.
It runs every Wednesday morning, 10:30am to 12:00pm and the group is six sessions long. We also offer a young person's group that runs in parallel to the parents group and consists of games and arty activities that the young person can attend (if they want to). We encourage all parents/carers, siblings or relatives who may have any role in helping the young person restore weight to attend. You are welcome to repeat any session as it is a rolling group, you can do this when the next session runs.
What parents/carers have said about the group
"The group was informative and helpful. It supported us through a difficult period."
"The knowledge to educate us regarding the eating disorder was perfect. The parents group was an excellent opportunity to see how others are affected."
The service treats young people who have an eating disorder and supports their parents and families, who are important in the young person's recovery.
Eating disorders can be extremely distressing and can affect the whole family. It is crucial that specialist intervention is both prompt and robust in order to make life saving decisions about the young person in need.
Helping young people to restore lost weight and develop healthier eating behaviours is key for our service, as well as encouraging people to talk about their feelings and learn healthier ways of coping with things as they start to recover.
We welcome people from all backgrounds, cultures, nationalities and religions. Please share with us any information about things we can do to make your experience with us more helpful.
Nurses
We have a number of clinical nurse specialists who complete assessments, and co-ordinate and deliver treatments, such as family-based treatment and specialist supported clinical management.
Doctors
We have psychiatrists who may be involved in your assessments and treatments, including prescribing and monitoring of medication and reviews. A psychiatrist may oversee your care and review your treatments.
Dieticians
Our dietitians offer assessments and treatments. They use the current public health and scientific research on food, health and disease, which they translate into practical advice to help people make appropriate lifestyle and food choices.
Therapists
We have three types of therapist within our therapies team: psychologists, family therapists and art psychotherapists:
Child and Adolescent Psychologists work with individuals and parents/carers offering consultation, parent support and individual psychoanalytic psychotherapy. They also carry out assessments and the main treatment they provide is individual therapy such as cognitive behavioural therapy
Family therapists offer assessments and the treatment they offer (family therapy) involves working with families to nurture change and development
Art psychotherapists mainly offer treatments of one-to-one art psychotherapy.
We accept requests for support from GPs, schools and other health professionals for children and young people who have or are suspected of having an eating disorder. To contact us or make a request for support:
Visit the electronic referral system - GPs only
Visit the secure Riviam web portal - GPs, schools and other professionals
Please make your request for support on Google Chrome
Call Access and Advice on 0300 222 5755
We are open 8am to 8pm Monday to Friday and 9am to 12pm Saturday. The service is not open on bank holidays.
If you work for Surrey and Borders Partnership NHS Foundation Trust please follow the consultant-to-consultant request for support procedure.
We require a weight and height for referral.
There is no minimum weight restrictions to access our service, and it is no longer recommended for GPs to "watch and wait" but to refer for early intervention.
Once we receive the request for support you will be offered an assessment.
Areas covered
We are a Surrey-wide service covering Elmbridge, Epsom and Ewell, Guildford, Hart, Mole Valley, Reigate and Banstead, Runnymede, Rushmoor, Spelthorne, Surrey Heath, Tandridge, Waverley and Woking.
Request for support criteria
Children and young people who have, or are suspected of having, an eating disorder. We are commissioned to see children and young people who experience Anorexia Nervosa, Bulimia Nervosa, Binge Eating Disorder, and unspecified feeding and eating disorders.
At assessment, we establish if the young person meets the criteria for an eating disorder. If they are diagnosed with an eating disorder we will then provide treatment.
Waiting Times
We see urgent requests for support within five days and routine requests for support within 15 days. We aim to offer evidence based treatments within 28 days of contact. If you are concerned please consult with your GP or school nurse who can request support if needed.
"We were, from day one, left in no doubt as to the seriousness of Anorexia. We feel fully educated on the illness. Our daughter was listened to sympathetically and genuinely helped by all involved."
"We were grateful for the support and understanding, and being taught how to help our daughter when we had no idea what to do."
"Everyone I came into contact with was so helpful in my daughter's recovery."
"My keyworker made me feel safe and comfortable at a time when I felt alone, attacked and angry. She let me open up without feeling judged and brought such positive energy which made me realise I actually wanted to recover."
"The service helped me stay out of hospital and turn my eating disorder around."
"All the support I have received has been extremely helpful. I feel they really listened to me, they cared and helped me get better, healthy and happy again. The care I received was appropriate."
Books
Help Your Teenager Beat an Eating Disorder by James Lock and Daniel Le Grange
Skills-based learning for caring for a loved one with an eating disorder: The New Maudsley Method by Janet Treasure and Grainne Smith
Eating Disorders: A Parent's Guide (2nd Edition) by Rachel Bryant-Waugh
Anorexia and other eating disorders: How to help your child eat well & be well by Eva Musby
Websites
Videos
Contact Details
The Child & Young People's Eating Disorder Service
The Meadows Day Hospital
The Meadows
Horton Lane
Epsom
Surrey KT19 8PB
Parking
Free parking is available in front of The Meadows Day Hospital, subject to availability.
Free parking is also available at Surrey and Borders Partnership Trust (SABP)'s Ramsay House, subject to availability. Take the first left after you enter West Park into Richmond Crescent and follow the road around, you will see the SABP car park on the left almost immediately.
Free parking is also available in the SABP car parks next to the Training Centre/ Burnham Suite (on your left) and outside of Farmside/ HOPE Services (on your right) once you have driven past the front of The Meadows, subject to availability.
When parking at any of those locations, please do not park in the disabled spaces unless you qualify and have a blue badge.

Telephone
01372 216633
Opening times
Monday to Friday, 9am to 5pm
Contact name
Service Manager: Suzanne Cole
Out of hours contact
Surrey and Borders Partnership NHS Foundation Trust switchboard: 0300 5555 222
Areas covered
Elmbridge
Epsom and Ewell
Guildford
Mole Valley
Reigate and Banstead
Runnymede
Spelthorne
Surrey Heath
Tandridge
Waverley
Woking