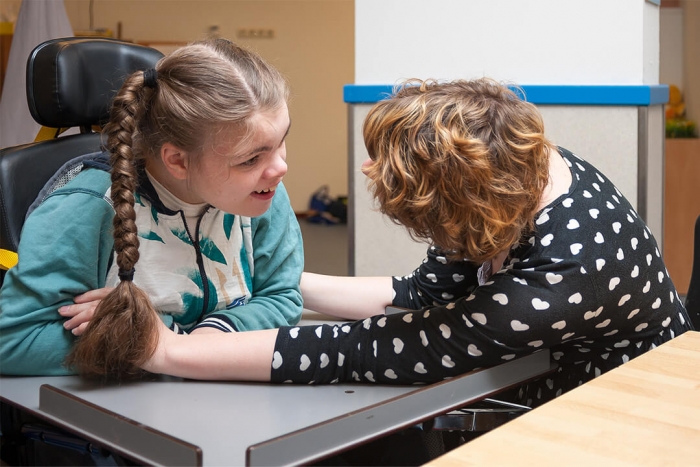 We provide a specialist service for children and young people with learning disabilities. Our Community Learning Disability Service provides assessment, consultation and short, focused treatments and support for children and young people up to the age of 18 who have a learning disability.
We help:
Pre-school children who are delayed cognitively by at least a third of their chronological age and are also delayed in two other areas such as motor, social or communication/ language skills
School aged children who have a learning disability and who are delayed by at least three years in cognitive ability and are also delayed in two other areas such as communication and self-help skills.
The team is made up of staff with different specialisms to provide the best possible help and support, including nurses, psychiatrists, psychologists and music and drama therapists. We provide assessment, consultation, intervention, training and liaison which may involve professionals from more than one discipline. Interventions are based on assessment formulation and care planning. Our work is collaborative, goal orientated and, where possible, time limited.
Consultation and training is aimed at enhancing the confidence and competence necessary to deliver an intervention provided by others involved in the care of young people. Feedback to professionals and families is respectful, open and clear and correspondence is copied to families unless there is good, documented reason not to.
How to access our service
We accept requests for support from health, social care or education professionals such as a GP or teacher. This ensures that every child or young person referred is in contact with the right service and receives appropriate treatment and support.
Please contact your GP, teacher or social care worker to request support for a child or young person. If you have any questions about a child or young person's mental health, call Access and Advice for advice on 0300 222 5755.
Contact the team
We operate as a Surrey-wide service and our main office is Gatton Place in Redhill. We also have bases in Ramsay House (Epsom), Unither (Chertsey) and Berkeley House (Godalming) but we don't attach specific geographical locations to the bases as the nurses work flexibly across the county.